Book six or more nights and receive an all inclusive dinner for six prepared by our private chef
Privacy
Shaded by tropical trees and unique decors, complete privacy is yours as you feel completely at home.
Lot of Spaces
The villa itself offers an open concept living space where you have your own private garden and private pool.
Fully Staffed
Chef, butler, housekeeping, security to enjoy with five-star service in your own private holiday home .
Facility
Speed WIFI, 20-meter lap pool, fully equipped kitchen, satellite TV, VCD, DVD, Bose sound system, IDD phone.
Voted One of Bali's Best Villas. Yak Magazine.
How to describe Villa Nalina amongst the plethora of luxury villa rentals in Bali?
A series of experiences unique to Villa Nalina and its location centered on themes including culture, gastronomy, adventure, family, romance and well being. Water is an important element with a lotus pond teaming with koi upon entrance and bubbling water features fringing the villa.
Luxury Bali Villa Experience: Villa Nalina is a beautifully designed villa; luxurious, comfortable and practical.
The finishing of the villa is of the highest standard and furnishings are ultra-cool with the best quality materials. This luxury bali villa is a perfect place to spend a classic and indulgent holiday in Bali. By day the villa is light and airy, a place to relax in sun loungers, enjoy some poolside dining al fresco style and swim a few laps. Our butler service means that your every whim is taken care of. Villa Nalina is a complete luxury bali villa rental experience! By night this private bali villa takes on a convivial atmosphere – perfect for entertaining friends and family. Villa Nalina is unlike any other private villa rental in Bali. Situated in the heart of Seminyak alongside Bali's trendiest beachside entertainment venues, the doors of Villa Nalina open up to the next dimension in Luxury Bali Villa accommodation.
Edelweiss Bedroom
| | |
| --- | --- |
| KING bed | LCD |
| Air con | Direct dial telephone |
| Safe deposit | Free WI-FI |
Outdoor living space
 Kenanga bedroom
| | |
| --- | --- |
| KING bed | LCD |
| Air con | Direct dial telephone |
| Safe deposit | Free WI-FI |
Outdoor living space
Orchid Bedroom
| | |
| --- | --- |
| KING bed | LCD |
| Air con | Direct dial telephone |
| Safe deposit | Free WI-FI |
Outdoor living space
Cempaka Bedroom
| | |
| --- | --- |
| KING bed | LCD |
| Air con | Direct dial telephone |
| Safe deposit | Free WI-FI |
Private living space
Families, couples or friends will adore soaking up the charm of this Balinese tropical-built residence, which has 4 generous ensuite bedrooms, including a delightful kids room. Two bedrooms face the pool, while above them one more suite opens onto a long balcony overlooking the azure water, which is lit at night by neon blue lights creating a mesmerizing aquatic art piece.  Relax into the huge and comfortable living rooms surrounded by amazing decorations. Garden size 690 m². Villa size 610 m². 
24/7 security
High level of privacy and security, local guests allowed. Friendly professional security guards 24/7 at your service.
For Family
High chairs; baby cot; baby monitor & pool toys. A pool fence may be set up on request and is free of charge.
Capacity
8 adults and children 2 extra beds may be set up upon guest request (extra charges apply). 5 star kitchen with Espresso-machine, ice cream maker, wine chiller.
Transport
Villa Nalina Bali central Seminyak location means that many attractions are within easy walking distance.
Property area
739sqm (villas), 1,000sqm (land). oasis with a Feng Shui interior design and water elements setting the ambiance along with a big serene garden.
Managed
Directly by the owner.Here you will have direct contact with the management owners not hiding or extra cost.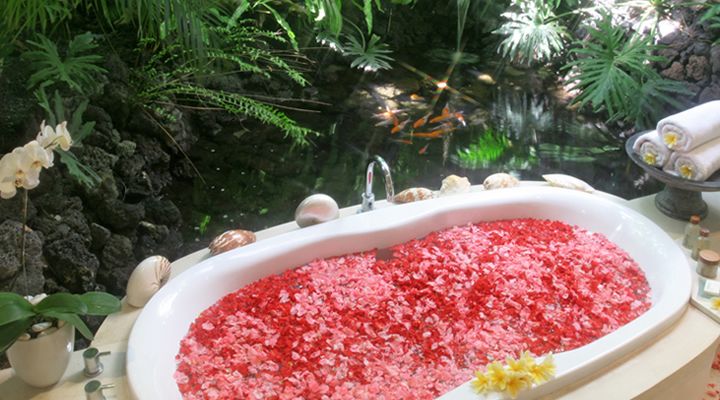 Wellness
Villa Nalina Bali offers an intimate welcoming environment with internal and external areas exclusively reserved to our guests. The wellness area includes a Finnish Sauna, Turkish Bath, Emotional Showers, Scottish Shower and a Relaxation Area.
Truly Bali
Aching for a romantic tropical getaway? Well, Bali is, of course, the place to be for any type of tropical adventure. Villa Nalina offers a comforting scene of Seminyak beach and local culture for the ultimate romantic escapade this month.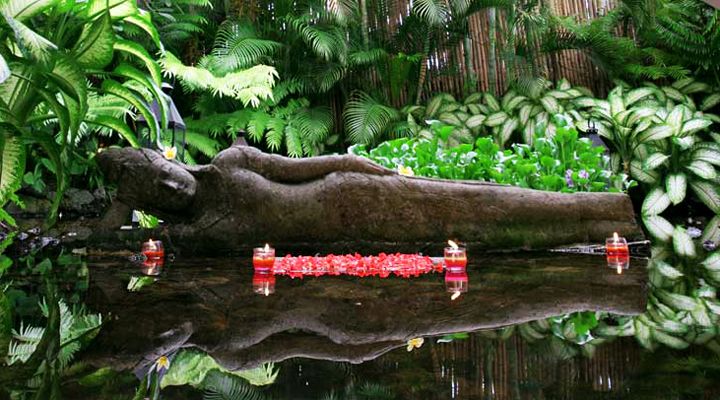 We are here
Address:
Address jl Sari Dewi gang Drona no 27b Oberoi - Seminyak | Bali 80361
Lisa Shanahan (verified owner) – 22th September 2019
Wonderful Holiday
Ambiance: excellent. The cleanliness: perfect. Services: perfect wonderful and kind. Food and beverages: great. Villa Nalina absolutely makes this family holiday wonderful. We will be back.
Jay McClennan (verified owner) – 7th August 2019
Luxury promised, luxury delivered
This was our second visit to Nalina and we were a bit concerned that we wouldn't be 'wowed' the second time around. Not the case at all !! The owner has continually upgraded the villa it and it is fastidiously maintained. Leo and Carmen are legends – they looked after our family so well and second-guessed our requests. We are coming back again. Absolutely amazing experience which we will come back to. Went to stay at another villa that was highly rated – nothing in comparison to Nalina.
Sim Bee Choo (verified owner) – 7th May 2019
Amazing housekeepers & Villa
My family of 6 had a truly wonderful and well rested vacation at Villa Nalina, Seminyak. The villa was huge with a great swimming pool. There was more than sufficient space for all 6 adults. What made it a memorable vacation was the team of 4 wonderful housekeepers who pampered us to the max! They cooked the dishes we craved for, took the trouble to buy seasonal fruits for us from a nearby market. They were warm, attentive and non-intrusive.
TSCHELLEA FOWLER (VERIFIED OWNER) – 18th October 2019
Amazing Location
Villa Nalina Seminyak offers our children's playground. Both a bicycle rental service and a car rental service are available at the accommodation, while cycling can be enjoyed nearby. We really enjoy the location and the private pool.